Design your ring & keep it a surprise.
Try on a free 3D printed model of your design.
Only see the real ring when he's down on one knee!
Design your ring & keep it a surprise.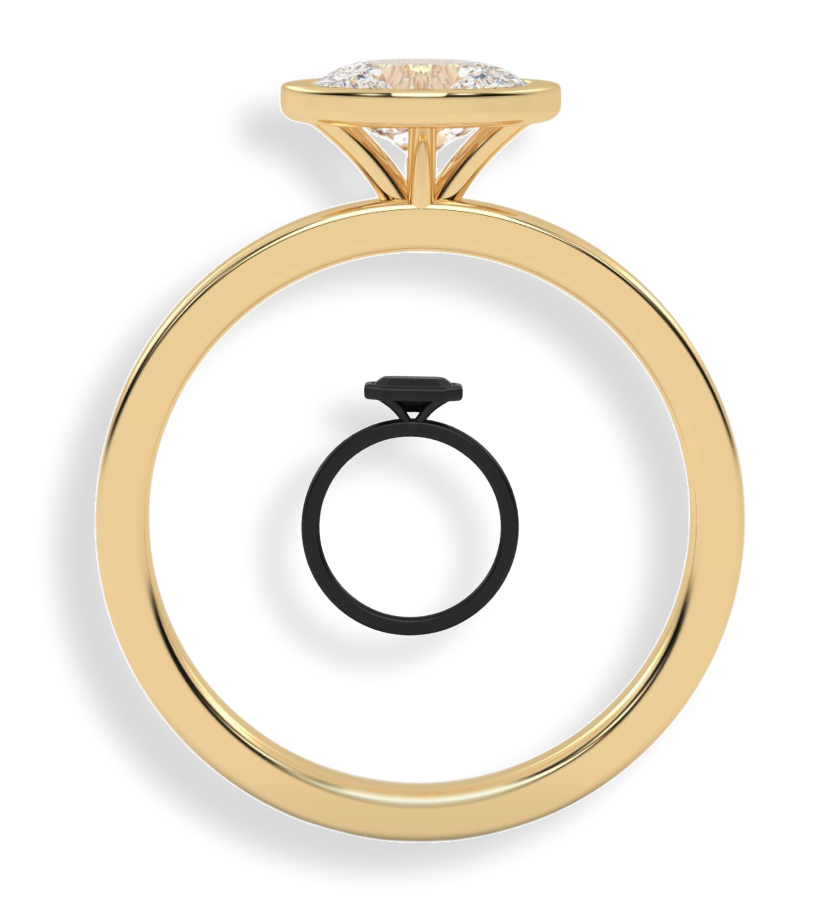 1
ORDER YOUR FREE
DESIGN PACKAGE
2
GET YOUR DREAM
REAL RING
1.DESIGN PACKAGE
Imagine knowing you'll love the ring.

But without spoiling the surprise.
That's magic!
Design Studio
Order your design package and instantly access the design studio to customize your design.
All designs can be made with natural & lab grown diamonds, or moissanite gemstones up to 5 carat. Real ring prices start at just $400.
Order free DESIGN PACKAGE
Our Designs
Every one of our rings comes with a carefully considered set of different design options that compliment each other.
Choose a base style you love and make it your own. It's easy and there are thousands of ways to customize.
Order free DESIGN PACKAGE
Your dream ring is guaranteed! If you can't create your perfect design with the presets in our design studio, we'll custom design it for you.
Get your YES BOX
Once you're happy with your design, we'll send you a personalized kit with a 3D printed model so you can try it on!

The Yes Box is hassle-free! Your 3D ring is for you to keep as a memento of your unique story.
Order free DESIGN PACKAGE
3D Ring

Wear your design

Try your ring on with a high resolution 3D printed model of your design. The only way to feel for comfort and style is on your hand!

Ring Size Gauges

Try a size up or down

Get the perfect measure with a professional set of five gauges in your size range. Slip on and off and wear overnight for a true comfort fit.

Carat Weights

Finalize the look

Imagine your ring with different carat weights. With three black zirconia gemstones in the shape and size range of your design.
Try on your model ring at home ...
Try on your model ring at home ...

... and pass it over to your partner.

... and pass it over to your partner.
2. REAL RING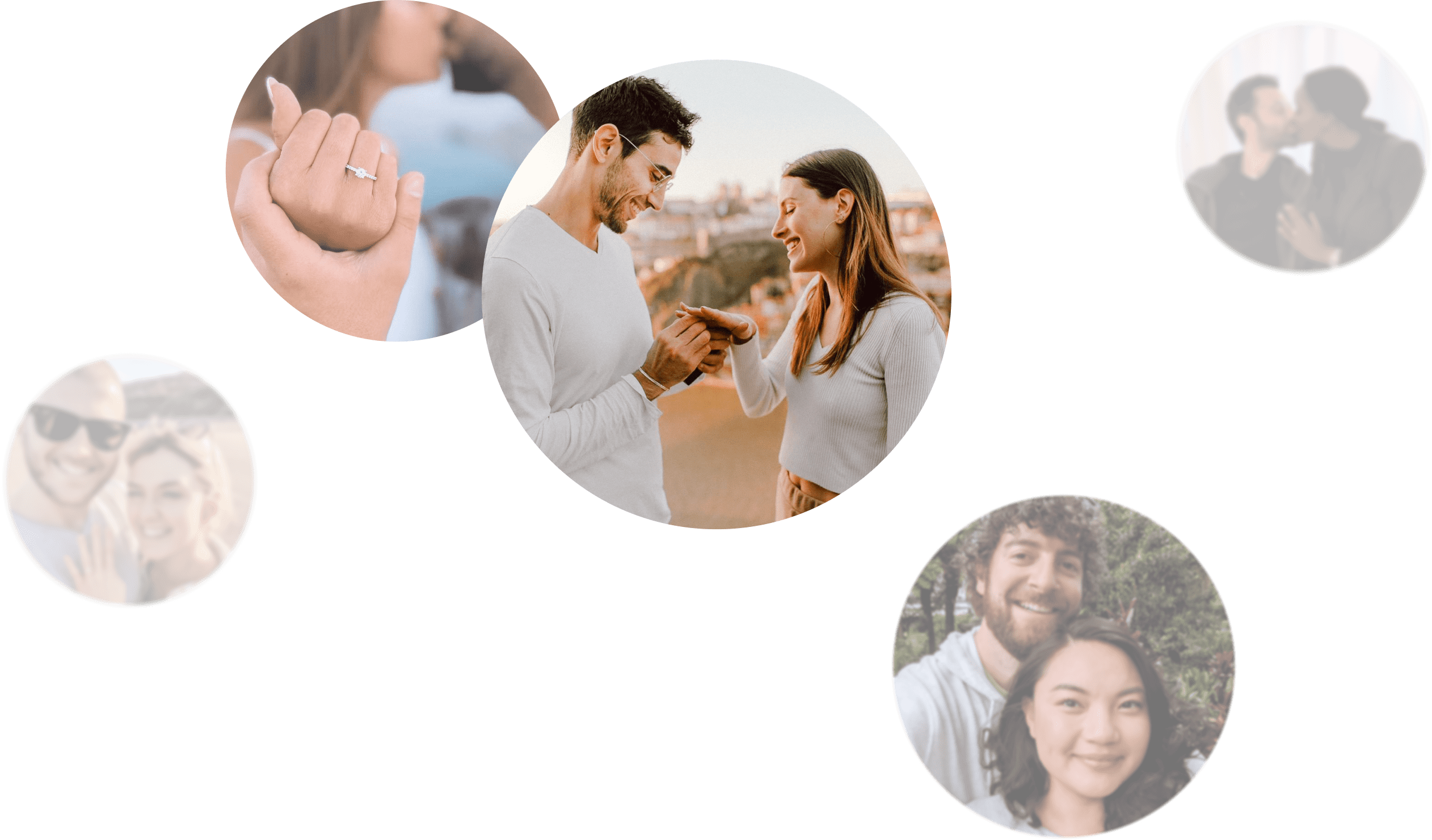 Get your Real Ring
PRICELESS
Your ring will be meticulously crafted by the experienced in-house team at Shiree Odiz.
With hand picked ethically sourced diamonds, and ex-Tiffany and Cartier master goldsmiths working on your ring, you're guaranteed to be blown away when the box finally opens.
This is
My Story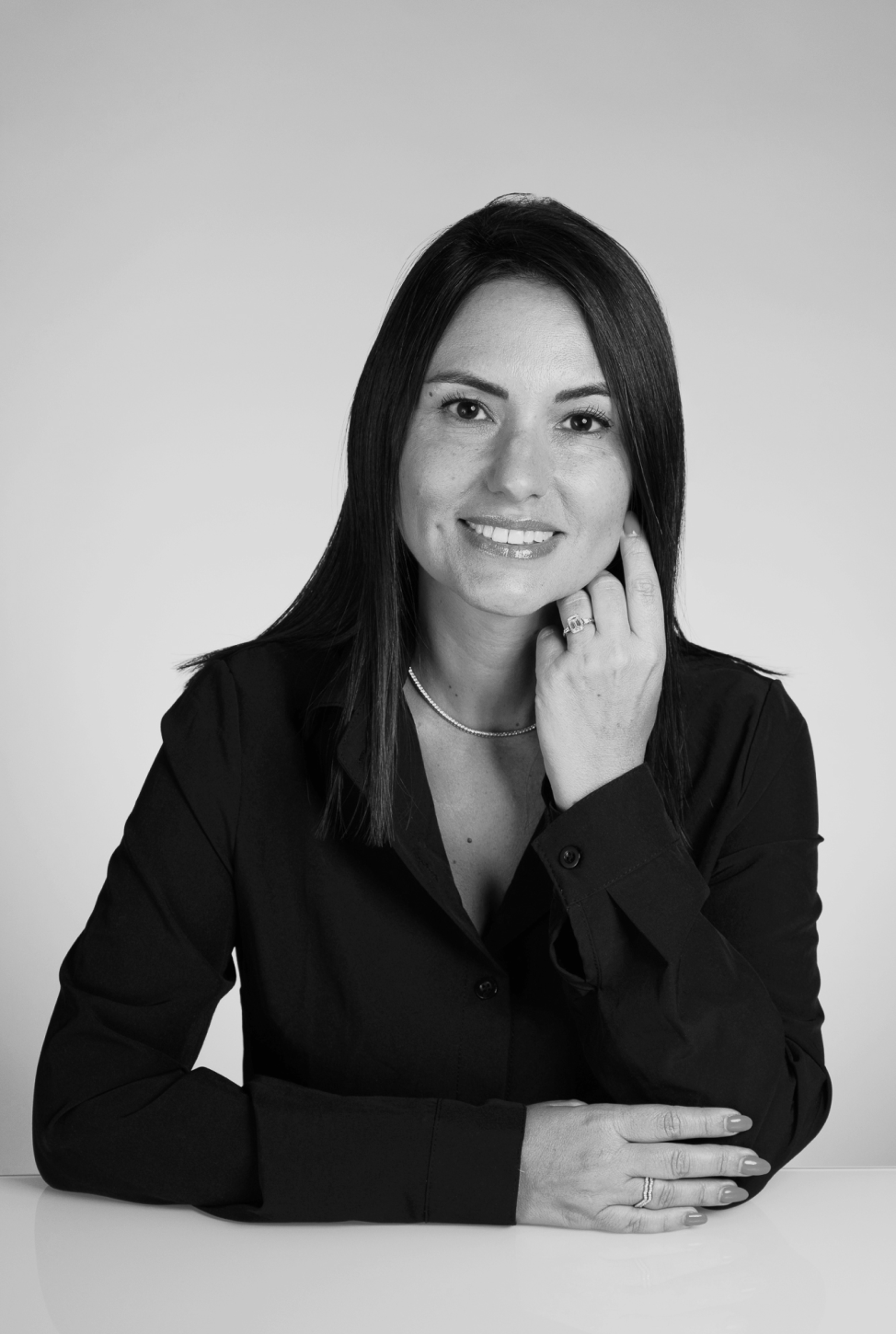 This is
My Story
Growing up with my father and grandfather in the diamond trade was inspiring. Their ethical and people-centric approach always guided them and me.
They were both pioneers in their own right, and I wanted to make my own mark on an industry that was traditionally very technical and male dominated. I saw things differently.
Rather than focus on the stones, I studied fine jewelry design both formally and with masters of the trade. After just over a year working with one of the most talented goldsmiths, we received an order for my dream ring.
Back then we would manually sculpt each ring out of wax, creating a master model to then be casted in gold. During the process, I caught on that this wasn't just any order... I knew this was my ring!
I never saw the ring beyond the wax model, but once it had left my hands, I waited in elated anticipation to see it again. Weeks passed.
One evening, my parter surprised me. That was 17 years ago but the moment will stay with me forever.
Questions
Design

How do I design my ring?

After ordering the Yes Box, you'll be automatically directed to our online design studio. Choose a base design you love and have fun customizing your ring with over 1000 preset combinations. A selection of the many design possibilities is shown above.

I'm not a designer. How can I make sure the ring looks great?

We are experienced fine jewelry designers with nearly 2 decades of experience in designing and crafting engagement rings for couples just like you. Every design combo has been carefully considered so that everything works perfectly together. No matter how you design, you're guaranteed high-end aesthetics, correct proportions, comfort and durability.

How do I confirm my design?

Once you're happy with your design, simply hit 'add to cart' and complete checkout with your shipping address. There's nothing more to pay!

What happens if we don't have a design you love?

If you're unable to find a design that works for you, please contact us via our chat or email at hello@surestory.com to see if we're able to make any custom adjustments to your design. Should we not be able to accommodate your request, a full refund will be issued.
Shipping & returns

How much is shipping?

When ordering the Yes Box, we charge our actual cost of $9 for shipping (US sonly). For the real ring, shipping is free of charge.

How is my order shipped?

Your Yes Box is shipped with USPS or DHL, 2-3 day ship.

Real rings are shipped securely and fully insured with FedEx 2-Day.

Can you ship to a PO Box?

Yes Boxes may be shipped to locker or PO Box addresses.

However, any orders over $100 (fine jewelry) may only be shipped to a street address and requires a signature to receive the package.

Do you ship internationally?

We're currently only shipping to US domestic addresses, but we do hope to expand our offering really soon!

When will I receive my Yes Box?

Once you've confirmed your design, we 3D print the exact model, in your size. As every order is individually made, please allow up to 5 working days for your order to ship. Then it'll be 2-3 days for delivery. You'll receive tracking information as soon as it's on its way.

Do you accept returns?

Every Yes Box we ship is 100% custom made for you, therefore it's not possible to accept returns.

How does your 30 day money back guarantee work?

Once payment has been made for your Yes Box, you have 30 days to play with the design options in our online studio. Think, share with friends and try again until it's perfect for you. If you're unable to find a design that works for you, please contact us to see if we're able to make any custom adjustments to your design. Should we not be able to accommodate your request, a full refund of the shipping will be issued.
About us

Who is the company behind Sure Story?

Our mother brand is Shiree Odiz (www.shireeodiz.com), founded in 2006. We are proud to have upheld a squeaky clean online and offline reputation with an incredible zero complaints on the BBB since our foundation and thousands of positive 5 star reviews.

How many years have you been in the diamond industry?

We're 3rd generation in the diamond jewelry industry with well established, rigorously checked supply chains to ensure ethical, conflict free and both Kimberly and AML compliant diamonds.

Where are you based?

We're in the heart of the jewelry district of Manhattan, New York. We also have a design studio in the Ramat Gan Diamond Exchange in Israel, where we source the majority of our natural diamonds.

Can I visit you?

We'd love to welcome you in our New York location any time, on appointment. Simply contact us to arrange a time that's convenient for you.

As all Yes Boxes and engagement rings are made to order, we don't have a storefront. However, you absolutely can come to inspect a diamond you're considering or collect your real ring in person.
YES BOX

Do I need to ship the Yes Box back?

No! It's yours to keep as a memento of your unique journey - and a story to tell. When we craft the real ring, we use a similar master CAD file to cast in the metal of your choice.

What are the carat weights for?

The carat weight will have the most effect on the price of the main stone in your real ring. Let's get it right!

Your Yes Box includes real cubic zirconia gemstones. You'll receive 3 different carat weights in the shape and size range of your ring design. Wearing different carat weights on your hand will help you imagine your design should you want to consider a different size center stone.

Also included is a guidebook with all shapes and carat weights printed in actual size.

Why do I need ring size gauges?

Save the hassle and heartache of receiving a ring you can't wear and show off immediately!

There are many ways to measure your finger, but wearing an actual ring on your finger is the most surefire way of getting a secure and comfortable fit.

Ring measuring strips that can be printed online or purchased on Amazon are okay for a general measure, but they don't take into account how the ring slides on your finger past the joints.

Having your finger measured at a local jewelry store is one of the best ways, but this can be a hassle and won't allow for swelling which happens in the morning or in warm conditions
Keeping it a surprise

Why are the ring designs shown as line sketches?

Line sketches allow us to show you the form of the design, without giving away too much about the appearance of the real ring. We don't want to ruin the surprise!

Why try on a 3D printed model and not a replica or the real thing?

Simply put, we don't want to spoil your big moment. Choosing the design is one thing, but wearing your exact ring beforehand kind of gives away the surprise!

The 3D printed ring allows you to feel the ring for comfort, proportions and style on your hand. No more guesswork via a screen and no more spoilers.

AR allows me to virtually try on many different rings. Why the physical model?

Everyone's hands are different and while you can imagine roughly how the the design will look, the 3D printed ring allows you to feel the ring for comfort, proportions and styleon your hand.

I can see the design on my screen. Why do I need to order a 3D printed model?

We've been designing engagement rings for nearly 2 decades. No matter how beautiful the photos, renderings and videos are, it's always hard to know how dainty or chunky a design is, the size of the main diamond and how intricate the small details are - until it's actually made. Not to mention how those proportions look and feel on your unique fingers. 
Involving your partner

Isn't it my partner's job to choose my ring?

An engagement ring is probably one of the most significant purchases your partner has ever made. The abundance of ring designs, metal options, diamond shapes and carat weights can be overwhelming and extremely stressful. Especially when trying to guess what you love - which is what you both want.

If I choose the design, what's left for my partner to do?

By helping with the design, your partner can confidently research the diamond details (type, color, clarity, cut, certification, authenticity, origin etc.), double check our reputation as a trusted, high-end jeweler, and plan the proposal!

Do other women influence the design of their own rings?

Absolutely! In the US, over 30% of couples shop for the engagement ring together and over 80% of women actively influence the choice of design, metal, diamond shape and carat weight.

Shopping together can be romantic for some, but we believe that this is a compromise on the big moment. With Sure Story you can get the perfect ring and the surprise proposal!

What will my partner think of this?

If you've discussed getting married, your partner may already be aware how many options there are for the design, metal, diamond shape and carat weight - as well as all the diamond quality, origin and price considerations.

This can be extremely overwhelming. While the most important thing is your relationship, an engagement ring is a very significant purchase. Both of you want a ring that can be enjoyed every day for life and getting the design right can be so simple. So why not?! 
The real ring

Which stones are available?

All of our designs can be crafted with a choice of conflict free, ethically sourced natural diamonds, sustainable lab grown diamonds or moissanite gemstones.

Which metals are available?

Currently we're offering all designs in 14K white gold, yellow gold and rose gold, or 95% pure platinum.

Who certifies your diamonds?

Our diamonds are independently authenticated and graded for quality by the world's most stringent and reputable gemology institutes. Our natural diamonds come GIA certified as standard and our lab grown diamonds are IGI certified. Moissanite gemstones are tested and graded in-house.

How do I know that my design is going to be in our budget?

When you design your ring, there's an option to choose either the Yes Box or the real ring. The default price is without the main stone (semi-mount). Your partner may also select his choice of main stone in the carat weight and shape of your design.

Why choose a made to order ring?

Unlike off-the-shelf and mass made, a made to order engagement ring means higher quality, ethical sourcing, fairer pricing and more personal service. Your ring is meticulously and individually crafted for you and only you. All raw materials (metal and gemstones) are carefully selected and thoughtfully worked into your one-of-a-kind piece.